MEDIA
---
INDEX
---
THE REMEMBERING MOVEMENT
Synopsis: What is the silent moment between thoughts, glances, and memories? "The Remembering Movement" thinks poetically about this moment. This film depicts an experimental and poetic film triptych: "Thinking-Chant", "Gaze-Frame", and "Light-Texture" based on the poem "Since Then" by Marion Steinfellner and Mersolis Schöne. This is connected by Michael Fischer's soundscaping, which combines poetry and sound into a rhizomatic audio fabric triptych.

Synopsis in German: Was ist der stille Moment zwischen den Gedanken, Augenblicken und Erinnerungen? "Die erinnernde Bewegung" denkt poetisch über diesen Moment nach. Ein experimentell-poetisches Filmtriptychon: "Denk-Gesang", "Blick-Grenze" und "Licht-Gewebe" auf Grundlage des Gedichtes "Inzwischen" von Marion Steinfellner und Mersolis Schöne. Verbunden durch Michael Fischers Soundscaping, das Poesie und Klang zu einem rhizomatischen Klanggewebe-Triptychon verwebt.

Title: The Remembering Movement
Original Title: Die erinnernde Bewegung
Completion Date: July, 2020
Country of Origin/Filming: Austria
Film, Direction, Skript, Poem, Voice: Mersolis Schöne
Painting, Poems, Voice: Marion Steinfellner
Sound and Composition: Michael Fischer
Film Type: Video Art, Experimental, Short, Film Triptych
Film Language: German and English
Original Format: 4K, DCP
Running Time: 8 minutes 45 seconds
Producer: Mersolis Schöne

Trailer: Vimeo
Poster and Stills: Flickr, html, folder, and zip-file
Interview with Marion Steinfellner: Vimeo, Flickr, html, and folder
IMDb: IMDb

"The Remembering Movement" © Copyright 2020 MOVING THOUGHT

---
LOVE - A MEMORY SCULPTURE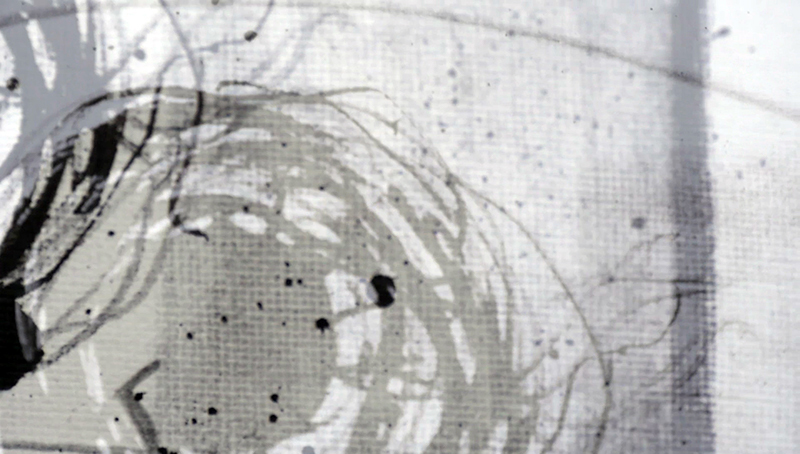 Synopsis: Moments of a memory. Abstract traces and noisy audible tissue. Fuzzy symbols of dreams pass by. Overlapping spheres of dialogues. Jumping details of resistance. Fluid moments of realignment and vibrant togetherness of clarity. The chirping of crickets, rain, and cowbell sounds grow more compressed and freeze. Somebody speaks in a fragmentized way. The former movement exists as a trace of memory now. The film summarizes the results of an artistic-philosophical experiment in India - on the subject of love.

Background: "Love - A Memory Sculpture" is a film-based philosophical research project which was created during an arts-based-philosophy residency in south India, provided by baseCollective (led by Susanne Valerie Granzer and Arno Böhler).

As a result of a 3 month residency at the Adishakti Center for Arts Research the film was part of the field performance "LOVE MATTERS... in which a transdisciplinary group of artists and philosophers from India and Europe research love on stage. They struggle together to de-construct stereotypical patterns of love for the sake of a multi-perspective view on an ambivalent phenomenon that touches us all." (performance announcement.)

After leaving India the pianist and composer Katharina Klement, the art historian and the voice of the film Apollina Smaragd, along with Mersolis Schöne who developed the film concept and drawings worked on the film further. This was done while following the residences concept of a multi-perspective view on love. In this context - keeping in mind that i.e. Alain Badiou thought about film as a "philosophical experiment" - the team followed the impulse while working on the concepts of love in which film is a medium of philosophy.

"Love - A Memory Sculpture" as a stand-alone experimental short film is the result of this intense intercultural and transdiciplinary process related to the topic of love.

Title: Love - A Memory Sculpture
Original Title: Liebe - Eine Gedächtnisskulptur
Completion Date: August, 2019
Country of Origin/Filming: Austria/India
Film and Drawings: Mersolis Schöne
Sound and Composition: Katharina Klement
Voice: Apollina Smaragd
Film Type: Video Art, Experimental, Short
Film Language: English
Original Format: 4K, DCP
Running Time: 3 minutes 52 seconds
Special Thanks: baseCollective
Producer: Mersolis Schöne

Trailer: Vimeo
Poster and Stills: Flickr, html, folder, and zip-file
IMDb: IMDb

"Love - A Memory Sculpture" © Copyright 2019 MOVING THOUGHT

---
FOREVER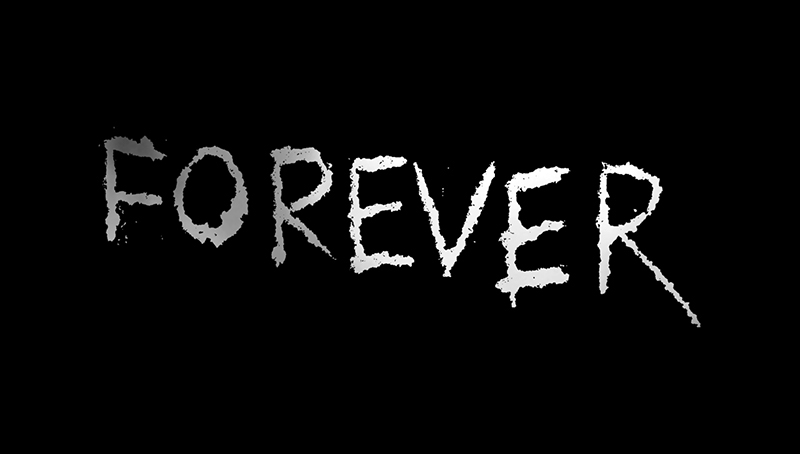 Synopsis: As an archive in constant change, walls surround us. As on skin, traces of urban life are shown on them. Out of the corners of our eyes, scratches, nicks, shapes, letters and words are absorbed by us in passing moments. This is an attempt to escape the temporal dimension of our being - "Friends Forever" - and anchor in the exuberance of feelings - "Love". They reveal our longing for continuity, visibility and the expression of becoming. The past is reflected in these skins of the city. Today's manifestations of eternity will be nothing more than tomorrow's background for future messages: constant change and eternity at the same time - being preserved in change. The shooting was made in 2019 in Thanjavur, a city in the southern Indian state of Tamil Nadu.

Synopsis in German: Als Archiv im ständigen Wandel umgeben uns Wände. Wie auf einer Haut zeichnen sich auf ihnen Spuren des städtischen Lebens ab. Sie prägen Augenblicke im Vorbeigehen: Kratzer, Kerben, Formen, Buchstaben, Worte. Versuche, der zeitlichen Dimension unseres Seins zu entkommen - "Friends Forever" - und im Überschwang der Gefühle einen Anker zu setzen - "Love". Sie geben unsere Sehnsüchte nach Kontinuität, Sichtbarkeit und nach dem Ausdruck des Werdens preis. Die Vergangenheit zeichnet sich auf diesen Häuten der Stadt ab. Was sich heute dort für die Ewigkeit als Botschaft manifestiert, ist morgen der Hintergrund zukünftiger Botschaften: Ständige Änderung und Ewigkeit zugleich - Bewahren im Wandel. Die Aufnahmen wurden 2019 in Thanjavur, einer Stadt im südindischen Bundesstaat Tamil Nadu, angefertigt.

Title: Forever
Completion Date: April, 2019
Country of Origin: Austria
Country of Filming: India
Direction: Mersolis Schöne
Film Type: Video Art, Documentary, Experimental, Short
Film Language: English
Original Format: 4K, DCP
Running Time: 25 seconds
Special Thanks: baseCollective
Producer: Mersolis Schöne

Trailer: Vimeo
Poster and Stills: Flickr, html, folder, and zip-file
IMDb: IMDb

"Forever" © Copyright 2019 MOVING THOUGHT

---
DETERNITY
Synopsis: "Hey you! Watch out! What does the deep midnight say?" "Deternity" is an experimental poetic short film exploring Friedrich Nietzsche's poem "Once More" (also called "The Drunken Song" from the book "Thus Spoke Zarathustra"). By using a combination of performance and projection techniques, the film depicts a protagonist being confronted with his own psychological dilemmas in a scene dominated by alternating light and shadows.

Title: Deternity
Completion Date: May, 2018
Country of Origin: Austria
Direction: Evi Jägle and Mersolis Schöne
Film Type: Experimental, Short
Cast: James Delaney
Film Language: English
Original Format: Digital, 4K, Color
Screening Format: Digital, 4K, Color, DCP
Running Time: 2 minutes 45 seconds
Producer: Mersolis Schöne

Trailer: Vimeo
Poster and Stills: Flickr, html, folder, and zip-file
IMDb: IMDb
Streaming: Amazon Prime Video

"Deternity" © Copyright 2018 MOVING THOUGHT

---
THINKING NIETZSCHE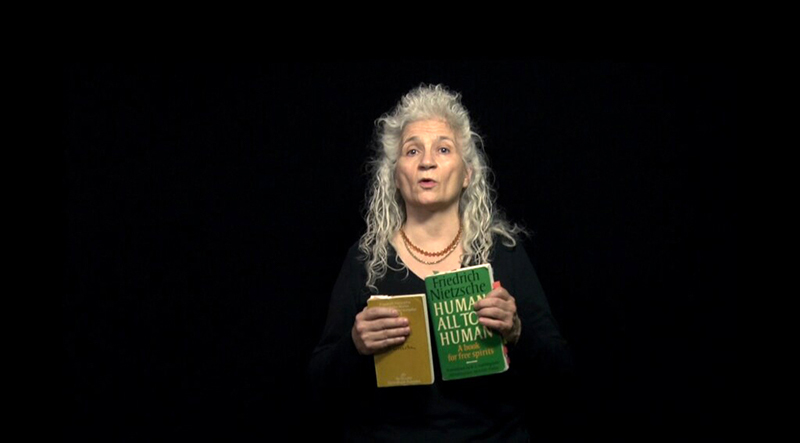 Short Synopsis: "How authentically do you live?" – Friedrich Nietzsche's texts push us into rethinking our lives. Confronted with "a supermarket of ideas", each time we read "ends with an orgasm of insight". Will his texts go on to change our lives, identities, the world? This essayistic documentary film transcends the confines between academia, art and everyday life. "THINKING NIETZSCHE" shows how Nietzsche transforms.

Synopsis: "THINKING NIETZSCHE" is an essayistic documentary featuring interviews and performances based on Nietzsche's book "Human, All Too Human" which leads the viewer to extraordinary places of thinking. In a Japanese garden in Vienna it becomes clear how "on long, forbidden paths and routes the unseeable in our world will suddenly be seen." Then, in Sils Maria - where Nietzsche formed his thoughts - in the alpine scenery and the Nietzsche-House his texts and positions of the contemporary Nietzsche research connect. Back in Vienna one is encouraged to interpret Nietzsche from a Freudian perspective. And in the art studio it becomes apparent that one can ally oneself artistically with Nietzsche. These European perspectives are supplemented with a performative commentary from New York City.

The main cast of the documentary film includes experts like:


Prof. Dr. Babette Babich, Fordham University, New York City
Assoc.Prof. Dr. Arno Böhler, University of Vienna
Prof. Dr. Helmut Heit, Director of the Kolleg Friedrich Nietzsche
Prof. Dr. Elisabeth von Samsonow, Academy of Fine Arts Vienna
Short Synopsis in German:
"NIETZSCHE DENKEN" erzählt, wie sich Lese- und Lebenswelten miteinander verweben und gibt einen einzigartigen Einblick in das breite Spektrum der zeitgenössischen, kreativen Nietzscheforschung rund um das Werk "Menschliches, Allzumenschliches".
Synopsis in German:
"Wie wahrhaftig lebst du eigentlich?" – Friedrich Nietzsches Texte bringen uns dazu, unser Leben neu zu überdenken. Wenn Nietzsche gelesen wird, entstehen "Revolutionen in der Küche", "Bilder im Kopf" und sogar "Orgasmen der Erkenntnis". Auf der Spur dieser Eindrücke folgt "NIETZSCHE DENKEN" ganz unterschiedlichen Lese- und Lebenswelten, in denen Nietzsches Philosophie Anklang findet. Ausgehend von Nietzsches Buch "Menschliches, Allzumenschliches" führen Interviews, Leseeinheiten und performative Beiträge den Zuschauer an außergewöhnliche Orte des Denkens: In einem japanischen Garten in Wien wird darüber gesprochen, wie "auf langen, verbotenen Wegen und Wanderungen das Unsichtbare unserer Welt plötzlich sichtbar gemacht werden kann". Sodann geht es nach Sils Maria, einem Schaffensort Nietzsches. Auf einer Bergbühne, im Nietzsche-Haus und in der alpinen Natur verbinden sich Nietzsches Texte mit Positionen der zeitgenössischen Nietzscheforschung. Zurück in Wien versteht man Nietzsches Text als einen, der uns "mit Freud in eine Analyse schickt". Und im Kunstatelier wird offenbar, dass man sich mit Nietzsche künstlerisch verbünden kann. Ergänzt werden diese europäischen Perspektiven mit einem performativen Kommentar aus New York City.
Im Dokumentarfilm werden unter anderem folgende Expertinnen und Experten interviewt:
Prof. Dr. Babette Babich, Fordham University, New York City
Assoc.Prof. Dr. Arno Böhler, Universität Wien
Prof. Dr. Helmut Heit, Leiter des Kollegs Friedrich Nietzsche
Prof. Dr. Elisabeth von Samsonow, Akademie der bildenden Künste Wien
Title: THINKING NIETZSCHE
Original Title:
NIETZSCHE DENKEN
Completion Date
: February, 2018
Country of Origin
: Austria
Country of Filming
: AT, CH, USA
Director
: Mersolis Schöne
Assistant Director
: Joel Szonn
Cinematograph and Editor
: Mersolis Schöne
Interviews
: Mersolis Schöne and Joel Szonn
Writer
: Mersolis Schöne, Friedrich Nietzsche
Cast:
Babette Babich, Arno Böhler, Helmut Heit, Elisabeth von Samsonow, Beate Himmelstoß, René Tichy, Matthias Vieider, James Delaney, Anna Wimmer
Music
: James Delaney, Friedrich Nietzsche
Female Voice
: Sabine Koch
Male Voice
: Christian Schreibmüller
Makeup Artist
: Sabine Koch
Film Type
: Documentary
Film Language
: German, English
Screening Format
: 4K, DCP
Running Time
: 96 minutes
Special Thanks
: Philosophy on Stage, Nietzsche-Lektüretage, Nietzsche Colloquium Berlin, Stiftung Nietzsche-Haus in Sils Maria, City Vienna, MuseumsQuartier Wien, Peter Villwock, Stefan Riedl, Hannah Große Wiesmann
Producer
: Mersolis Schöne
Trailer
:
Vimeo
Poster and Stills
:
Flickr
,
html
,
folder
, and
zip-file
IMDb
:
IMDb
Institute of Documentary Film
:
dokweb.net
James Delaney performance for the movie
:
Vimeo
,
Flickr
,
html
, and
folder
"THINKING NIETZSCHE" © Copyright 2018
MOVING THOUGHT
---
READING THROUGH THE BODY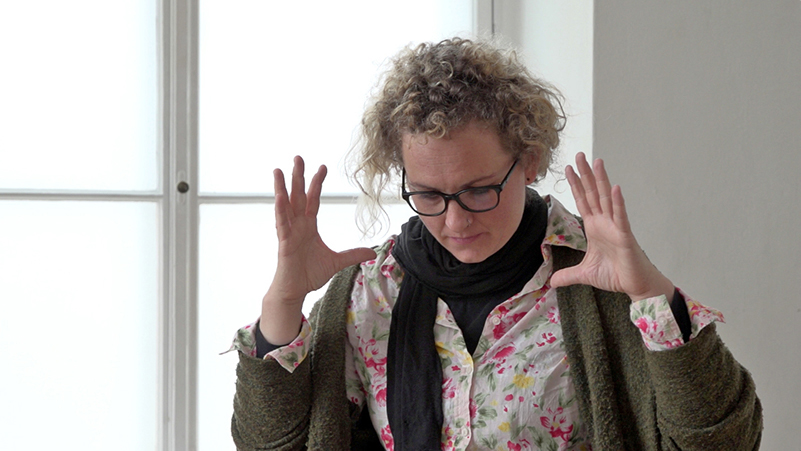 Synopsis: What happens if a philosophical text is mirrored in the world of sign language? What happens if thoughts and signs are translated into moving pictures? "Reading Through the Body" is a short ethnographic documentary showing how a woman who is deaf tries to comprehend and embody a text by Friedrich Nietzsche in an experimental setting.

"An accomplished sign language interpreter attempting the impossible becomes a mesmerising piece of performance art, in a film which reminds us that words are not necessary for a profound cinematic experience." FilmBath Festival, UK

Title: Reading Through the Body
Original Title: Körpersprache
Completion Date: May, 2016
Country of Origin: Austria
Author and Director: Mersolis Schöne
Reader and Performer: Lena Schramek
Camera, Cut, Sound Design: Christan Venosa
Assistant Director, Support, Camera Assistant: Emanuel Megersa
Production Assistant, Interviewer: Ronja Thum
Interpreter for Austrian Sign Language: Hanna Boesch
Film Type: Documentary, Short
Film Language: German / English
Original Format: HD, DCP
Running Time: 7 minutes 42 seconds
Special Thanks: Ethnocineca Vienna
Presented by: Moving Thought

Trailer: Vimeo
Poster and Stills: Flickr, html, folder, and zip-file
IMDb: IMDb
Streaming: Alexander Street Press

"Reading Through the Body" © Copyright 2016 MOVING THOUGHT

---
THINKING WITH THE HANDS
Synopsis: What role does physicality play in science? "Thinking with the Hands" is a short ethnographic documentary dedicated to the involvement of physicality in scientific knowledge production. We almost invariably picture knowledge generation as an eminently cerebral, cognitive work process where the body is all but irrelevant. In contrast, this film investigates the role played by hands in daily laboratory work routine.

Title: Thinking with the Hands
Original Title: Das denkende Tun der Hände
Completion Date: May, 2015
Country of Origin: Austria
Direction: Mersolis Schöne
Assistant Director: Laurentiu Constantin, Tim Seck
Film Type: Documentary, Short
Film Language: German / English
Original Format: 4K, DCP
Running Time: 9 minutes 28 seconds
Special Thanks: Ethnocineca Vienna
Presented by: Moving Thought

Trailer: Vimeo
Poster and Stills: Flickr, html, folder, and zip-file
IMDb: IMDb

"Thinking with the Hands" © Copyright 2015 MOVING THOUGHT

---
SCIENCE AND LOVE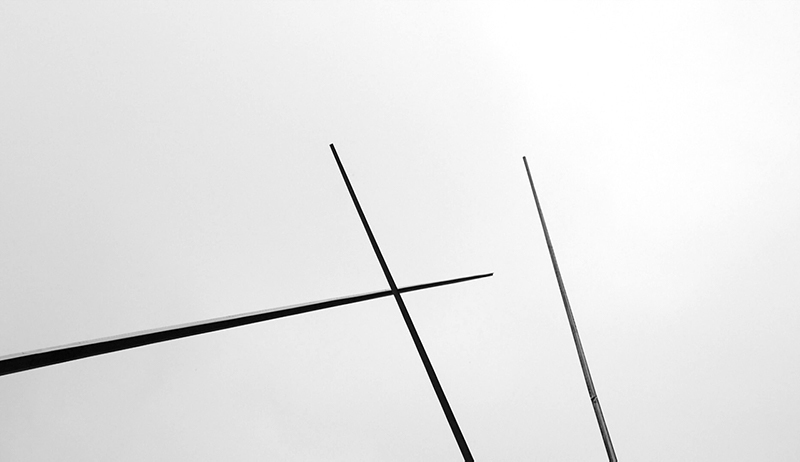 Synopsis: Bridging the gap between science and love, this film essay takes viewers on a journey of discovery through the public spaces of the University of Vienna to explore the connection between reason and emotion - between science and love. Within this philosophical experiment, contrasting images arise: a monument to rationality and a beating heart; a love letter and a technical definition of love.

Title: Science and Love
Original Title: Wissenschaft und Liebe
Completion Date: October, 2014
Country of Origin: Austria
Direction: Mersolis Schöne
Voices: Linda Erker, Jürgen Stowasser
Film Type: Philosophical Film Essay
Film Language: German / English
Original Format: 4K, DCP
Running Time: 9 minutes 39 seconds
Special Thanks: Herbert Posch
Presented by: Moving Thought

Trailer: Vimeo
Poster and Stills: Flickr, html, folder, and zip-file
IMDb: IMDb


"Science and Love" © Copyright 2014 MOVING THOUGHT

---